ANTS 10 Years Strong – Saturdays at Ushuaïa Ibiza
27 mayo @ 17:00

-

23:00

|

Evento recurrente

(Ver todos)

Un evento que tiene lugar cada 1 semana/s, comienza a la hora 17:00 los sábado, y se repite hasta el 30 septiembre, 2023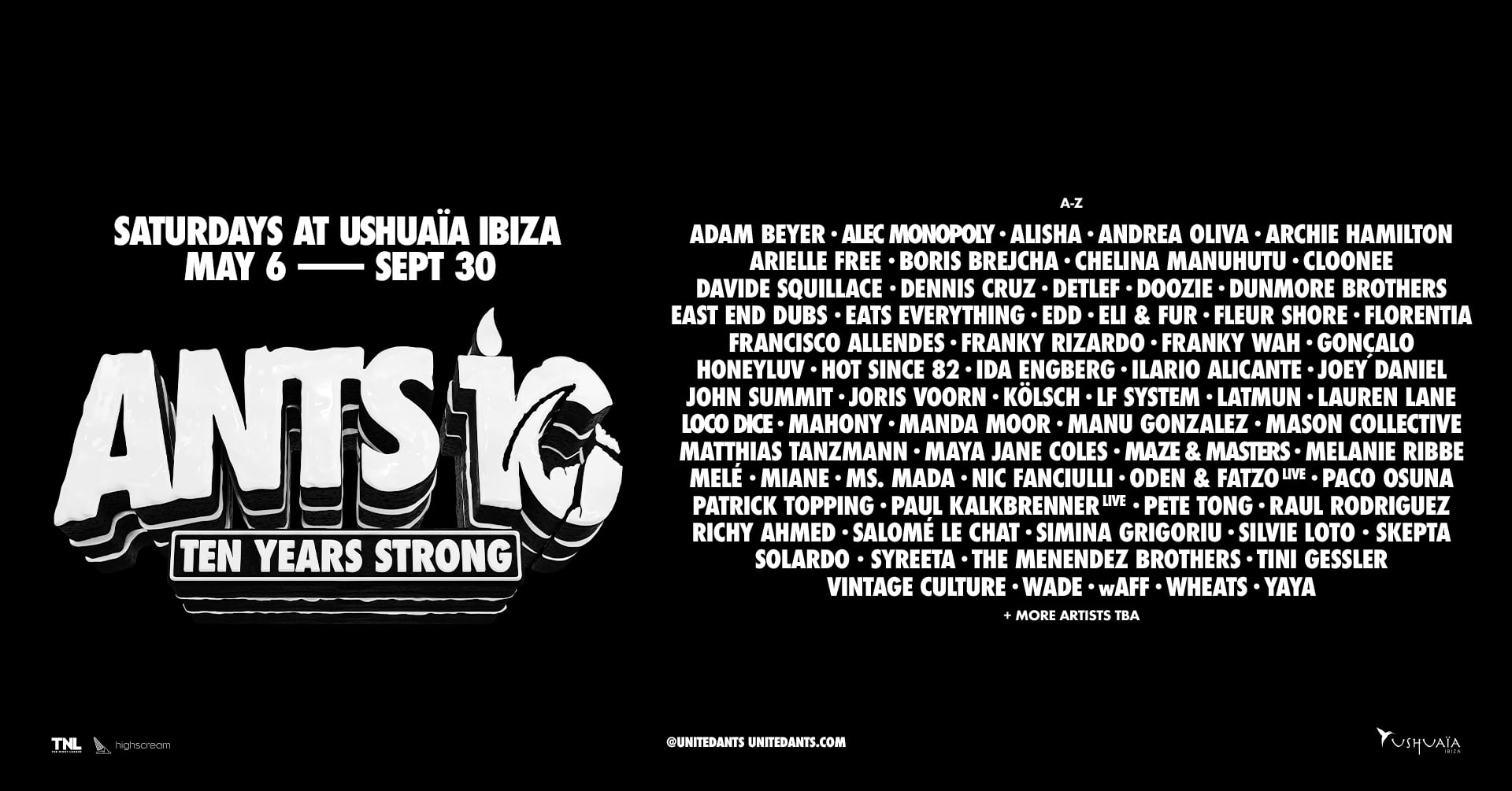 Una de las fiestas underground más aclamadas de Ibiza celebra una década en la cima en 2023 con ANTS 10 YEARS STRONG. El famoso ANTS innovador y de alto concepto es llevar las cosas a otro nivel en Ushuaïa Ibiza, ya que mira hacia el futuro con una temporada de 22 semanas, todos los sábados del 6 de mayo al 30 de septiembre, comenzando con una trilogía de épicos extravagANTS'ers.
DESCUBRIMOS
Junto a una producción totalmente nueva e inmersiva, los bailarines pueden esperar una banda sonora revitalizada con nuevos titulares emocionantes e invitados innovadores que se revelarán pronto.
Siempre a la vanguardia del underground house y el techno, ANTS 10 YEARS STRONG será una celebración de una temporada de música de vanguardia y espectaculares producciones inmersivas a una escala nunca antes vista.
La icónica Ushuaïa Ibiza se transformará por completo, su épico escenario en la piscina en el centro de la acción como innovadores audiovisuales te llevarán a otra dimensión. La temporada comienza con tres eventos de día a noche que tendrán lugar en Ushuaïa y Hï Ibiza. Presentarán alineaciones cuidadosamente seleccionadas que celebran todo lo que se ama sobre el sonido de ANTS, con muchas adiciones frescas que llevan a la fiesta al próximo capítulo y establecen un estándar impensable para toda la temporada que se avecina. Este va a ser realmente un año para recordar.
ENGLISH
One of Ibiza's most acclaimed underground parties celebrates a decade at the top in 2023 with ANTS 10 YEARS STRONG. The famously innovative and high-concept ANTS is to take things to another level at Ushuaïa Ibiza as it looks to the future with a 22-week season, every Saturday from 6th May to 30th September, kick-starting with a trilogy of epic day-and-night extravagANTS'ers.
Alongside all-new and immersive production, dancers can expect a revitalised soundtrack with exciting new headliners and innovative guests to be revealed soon.
Always at the forefront of underground house and techno, ANTS 10 YEARS STRONG will be a season-long celebration of cutting-edge music and spectacular immersive productions on a scale never seen before.
The iconic Ushuaïa Ibiza will be fully transformed, its epic pool stage at the centre of the action as innovative audio-visuals take you into another dimension.
The season starts with three day-into-night events which will take place across both Ushuaïa & Hï Ibiza.
They will feature carefully curated line-ups that celebrate all that is loved about the ANTS sound, with plenty of fresh additions that take the party into the next chapter and set an unthinkably high standard for the entire season ahead.
This is truly going to be a year to remember.
ANTS 10 YEARS STRONG (A-Z)
LINE UP
Adam Beyer • Alec Monopoly • Alisha • Andrea Oliva • Archie Hamilton • Arielle Free • Boris Brejcha • Chelina Manuhutu • Cloonee • Davide Squillace • Dennis Cruz • Detlef • Doozie • Dunmore Brothers • East End Dubs • Eats Everything • EDD • Eli & Fur • Fleur Shore • Florentia • Francisco Allendes • Franky Rizardo • Franky Wah • Gonçalo • HoneyLuv • Hot Since 82
Ida Engberg • Ilario Alicante • Joey Daniel • John Summit • Joris Voorn • Kölsch • LF System • Latmun • Lauren Lane • Loco Dice • Mahony • Manda Moor • Manu Gonzalez • Mason Collective • Matthias Tanzmann • Maya Jane Coles • Melanie Ribbe • Melé • Miane • Ms. Mada • Maze & Masters • Nic Fanciulli • Oden & Fatzo (Live) • Paco Osuna
Patrick Topping • Paul Kalkbrenner (Live) • Paul Reynolds • Pete Tong • Raul Rodriguez Richy Ahmed • Salomé le Chat • Simina Grigoriu • Silvie Loto • Skepta • Solardo • SYREETA •
The Menendez Brothers • Tini Gessler • Vintage Culture • Wade • wAFF • Wheats • YAYA